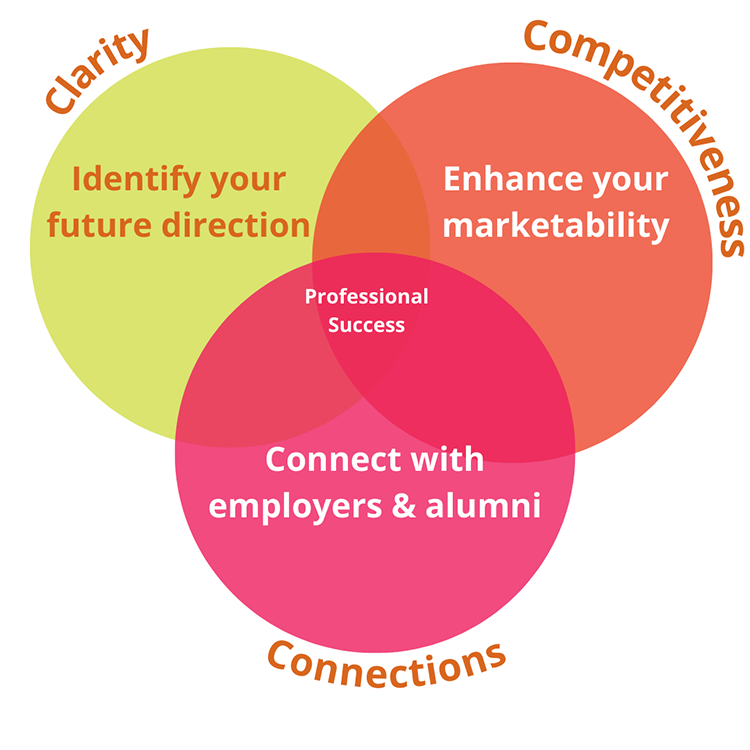 Your Career Planning Essentials
Berkeley Career Engagement provides students with opportunities to attain three key elements of career readiness and success:
Career Clarity — knowing your future direction through self-assessment and career exploration
Career Connections — developing a professional community including alumni and employers
Career Competitiveness — building and effectively communicating your skills
Which of these essentials do you have? Which do you need? Review the following to find out.
Clarity:
⇒ Do you feel clear about your career, academic, or other post-graduate plans?
⇒ Do you know the interests, skills, and values you want satisfied by your next move?
⇒ Have you researched your career, education or other options in depth?
Were any of your answers "no"? Find resources to help you gain career clarity.
Connections
⇒ Do you have contacts in your interest areas from whom you can seek information?
⇒ Are you comfortable approaching others and know how to solicit their ideas and advice?
Were any of your answers "no"? Read more about ways you can grow your network and get more connected.
Competitiveness
⇒ Do you know the skills, knowledge, experience and other qualifications you need to reach your goal?
⇒ Are you confident in communicating your experiences and skills for opportunities that interest you?
Were any of your answers "no"? Learn more about how you can grow your skills and become more competitive.
Quick Links
Learn:
Do: